Case Management, made easy
Our Case Management solution is easy to use and customise
Here are three helpful considerations to take into account when choosing your case management system:
Ease of Use: is this something that your team is likely to adopt and use regularly?

GDPR & Privacy: are you able to restrict who has access to sensitive information?

Reporting: capturing data is one thing, but how easy is it to produce reports?
We designed Makerble to deliver on all of these features.
4 Reasons to use Makerble Case Management
Avoid duplication of efforts by making it easier for the relevant people to get up to speed on an individual beneficiary

Make handovers between staff easier

Receive notifications of colleagues's updates on beneficiaries you work with

Add comments and tasks. Add attachments with any file type
Instantly generate reports showing you the demographic split across your beneficiaries

Customise the labels, fields and groups you assign to each beneficiary and filter data by each of those
Reduce the number of times that beneficiaries need to provide the same information twice.

Reduce the amount of data entry by your staff and give them more time to focus on servicing clients.

Allow beneficiaries to complete forms and answer surveys online
When you are ready to start tracking progress towards outcomes, your Makerble Case Management solution is able to meet that need too.

Export and import data whenever you need to
Wevolution receives funding from trusts, foundations and The Scottish Government. The charity has a remote team of Case Workers who support a network of Self-Reliant-Groups across Glasgow made up of people.who are working to bring themselves out of poverty. Wevolution recognised that in order to scale up and grow, they needed to improve the way they reported their impact and recorded the progress of each Self-Reliant-Group. Since migrating to Makerble, internal communication has improved. Managers can now scroll through their Makerble Newsfeed and see a timeline of updates from every case worker they manage. And Case Workers can click onto their colleagues projects to see an instant status update on the overall progress being made with a particular group.
Network of Eritrean Women UK provides advocacy and advice services to women of Eritrean heritage living in the UK. The organisation has one paid member of staff and a network of volunteers who provide women with legal advice on a one-to-one basis. Makerble enables each legal advisor to set privacy restrictions around the cases they work on with whilst enabling the charity to see aggregate, anonymised summaries of the number of people being helped and the outcomes that have been achieved.
Makerble is a cloud-based product which runs within your web browser e.g. Internet Explorer, Chrome, Safari or Firefox.

There are no additional IT staffing, hardware or software requirements to use Makerble. Because Makerble runs in the cloud you do not need to install it on your servers or download specialised software for it to work.

You can login using any computer, laptop, tablet or mobile phone that has an internet connection.

Every person, animal or organisation you work with has their own participant record
Manage who has access to which participants. GDPR compliance built-in

Managers can quickly see a newsfeed of latest updates posted by the people they manage

Record data for anonymous participants whenever you need to

See the progress for each participant in one place whether that is across multiple cases, services, projects or campaigns

Generate reports showing the current status of all your participants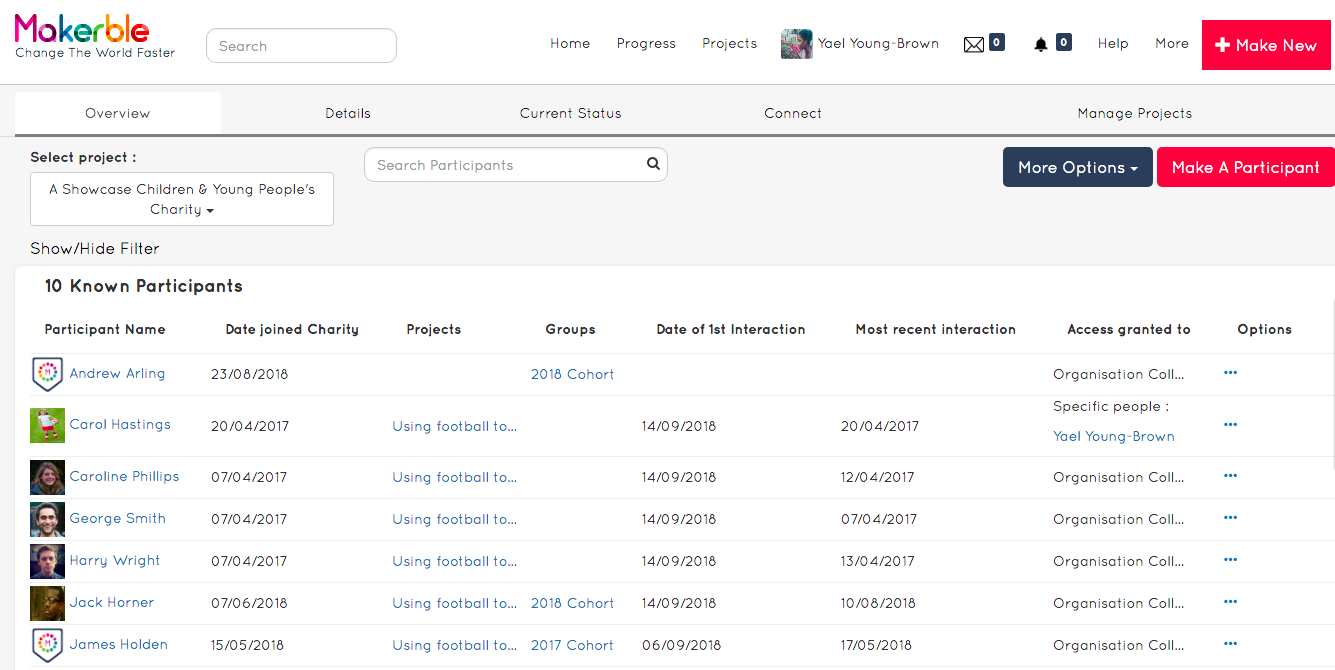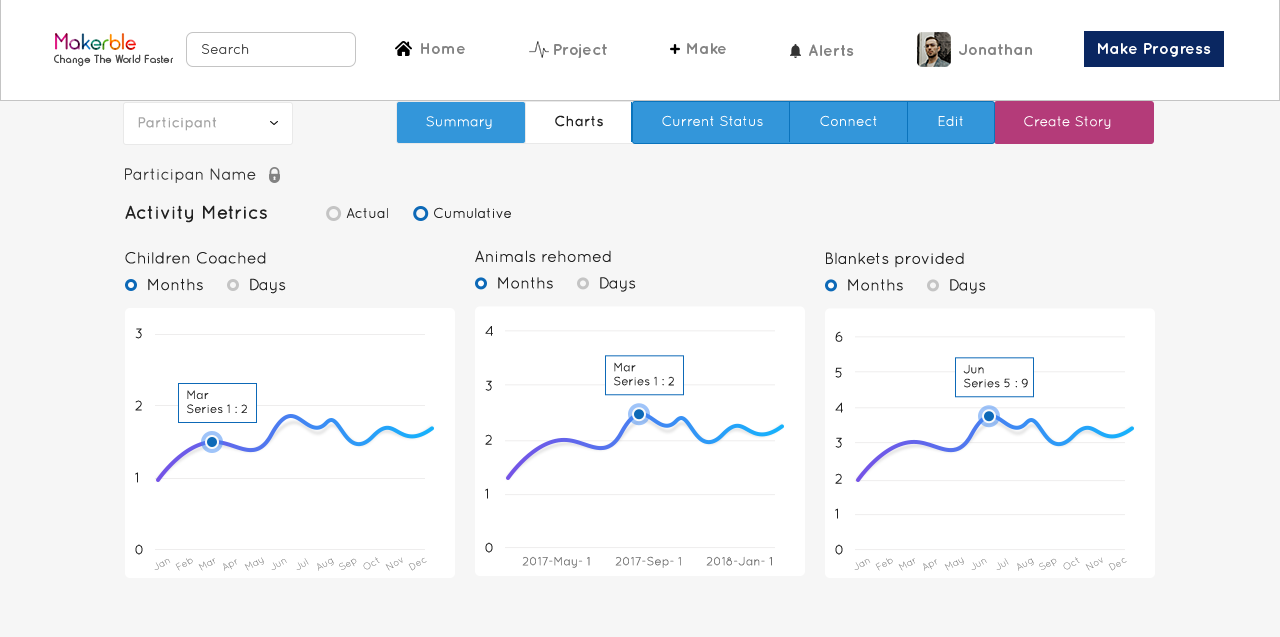 Getting Started
You will be up and running on Makerble before you know it. Our setup process is straightforward and our friendly team is on-hand to help you every step of the way.
Pricing
Makerble does not charge you per user or per beneficiary. Instead we charge you a flat monthly fee and have discounts for charities based on their income. Setup and Training are charged separately at £400/day or £50/hour. Your initial discussions with us to explore your requirements is free.
Contact Matt Kepple, Founder & CEO, to find out more. Email hello@makerble.com or give us a call on +44 (0) 20 8123 6253.